Move your mouse over and click on which battery icon you wish to learn about.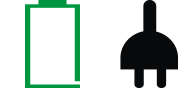 Battery
Battery Partially Charged

1 green bar in the battery icon is +/-6 hours of battery life at 125mL/hr.

This example shows battery life of +/-18 hours.

Plug in the pump to AC to fully charge the battery.
Battery Charging

Compat Ella® is plugged into AC power and the battery is charging. A blinking battery bar indicates charge progression.
Battery Charged

Full battery capacity is +/-24 hours at 125 mL/hr.
Content on this page will only be visible on ipad /computer.