Move your mouse over and click on Compat Ella® to learn more about her layout.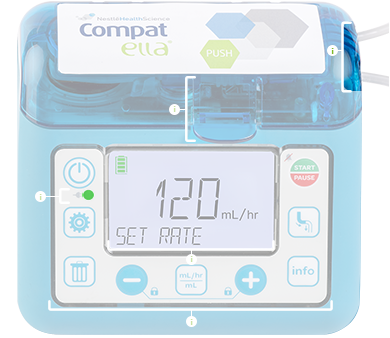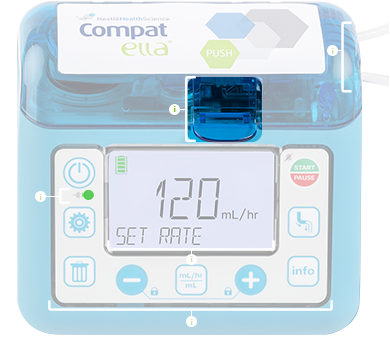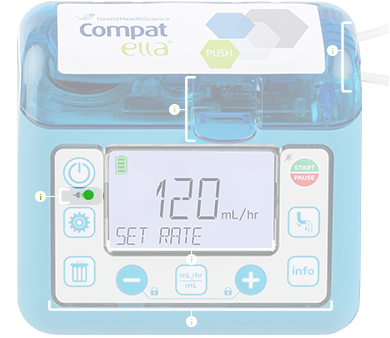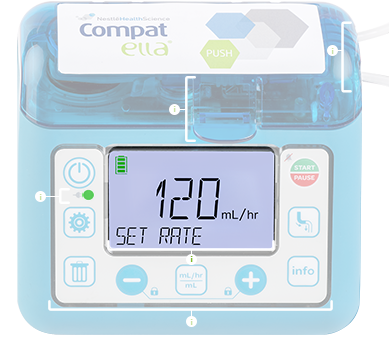 Zone 1
Zone 2
Zone 3
Zone 4
Zone 5
Administration Sets Available

• Spike set with ENPlus
• 1.5-Liter bag set
• Universal nutrition connector set
• Double spike set

All administration sets have an Auto-Anti-Free-Flow (AAFF) safety feature automatically activated until the set is correctly inserted in the pump and the door is closed.

Product availability might vary locally.
Pump Door and Door Latch

Open the door to clean the alarm sensors, view set holder, and insert administration set.
Icon-Based Keypad

Intuitive button function recognition and ergonomic U-shaped button layout.

See keypad section for further explanation.
AC Power Status Light

Solid green = pump is plugged into the AC power.
Colour Screen

Colours are used to help identify pump status and highlight on-screen information.
Content on this page will only be visible on ipad /computer.