Discover Compat Ella®'s screen by pointing to each symbol with your mouse.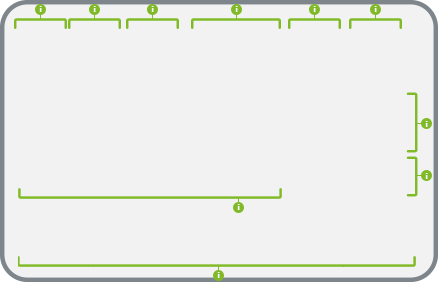 Screen
Icons
Battery Charge Level

4 bars means the battery is fully charged.
Plugged into AC Power

Full recharge time = approx. 6 hours.
Keypad Locked

The keypad is locked to prevent unintentional button presses.
Interval Mode Activated

Indicates that the pump is operating in the interval mode.

Interval mode should only be activated by qualified health care professionals.
Tube Feed Container Empty / Air in Line

Shows when the nutrition container is empty or if excessive air is found within the system.

See alarms section for further explanation.
Alarm Bell

Indicates an issue with the nutritional feeding program.

See alarms section for further explanation.
Main Info

Displays alpha numerical values for programming and alarms.
Run Icon with Occlusion Indicators

The green arrow segments light sequentially when the pump runs normally.

The red X indicates the location of any occlusion or blockage.
Main Info Label

mL, hr or mL/hr
Text Messages

Provides miscellaneous info on pump status, programming and alarms.
Content on this page will only be visible on ipad /computer.